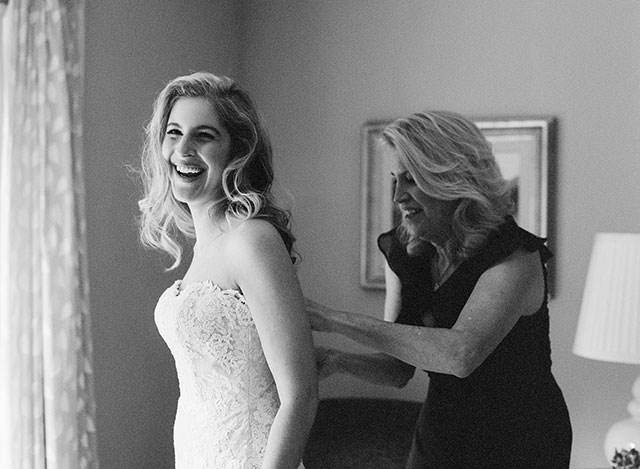 I loved meeting these two earlier this year for their Bethesda engagement session, and of course I had the absolute best time photographing their Bethesda Country Club wedding a few weeks ago! We got so lucky with the weather--the previous day was rainy and dreary but the day of the wedding dawned clear, sunny, and breezy. The bride got ready at her parents' home, which was so special and meaningful. I love that she wore her mom's veil as well as jewelry from the family, and she looked perfect in her beautiful Pronovias wedding gown. Gregory Dean did a great job on hair and makeup, everyone looked flawless!
The groom got ready at Bethesda Marriott and the light was so nice from the big window! We met up at the Country Club for wedding day portraits, the signing of the ketubah, and their ballroom ceremony and indoor ballroom reception. B Floral Event Design did an amazing job on the flowers for the day, weren't they perfectly classic? Lee over at Elizabeth Bailey Weddings really kept everything running smoothly and I so enjoyed working alongside her. She was an absolute delight! Kupcakes & Co. created the most delicious dessert, and Jacob from District Remix kept everyone dancing throughout the evening. Thanks to Meredith for assisting me that day, too. I hope you enjoyed seeing images from this sweet, joyful, beautiful wedding! Thanks for stopping by!
Images captured on the Hasselblad H1 & Canon 1V with Fuji 400, Ilford 3200 and XP2 films. Processed by Richard Photo Lab.